In THE BLOOD EYES
There's a new visual kei band in town and rumor has it that they are actually members of different boy bands from
EXILE TRIBE
! This band is called "
In THE BLOOD EYES
" and they have caused a scene dropping a single called "
CRAZY LEMON
" for a show called "
REFRESHING
" (watch the
clip here
) as they seem to have come from nowhere. The rumored members of this band are from a very prominent entertainment company named "
LDH
" and house popular boy bands such as
EXILE
,
三代目 J SOUL BROTHERS
,
GENERATIONS
,
THE RAMPAGE
, and more.
EXILE TRIBE
, in turn, is the collective term used for all call all their boy bands as a monster group. They also house
MIYAVI
, the great Samurai Guitarist and former visual kei boy, and
EXILE
TAKAHIRO
, the main vocalist for
EXILE
and J-rock band,
ACE OF SPADES
. This is all alleged because
LDH
has not made any proper announcements on the band nor has the members made any promotion on their social media! This company tends to make very clear announcements on all their current and upcoming projects and make sure their artists do the same. So, for there to be no announcements on this band is very strange indeed... if they are who we think they are. And if they are who we think they are, this is the first step
LDH
is making on to the visual kei scene!
The band has established their official
Twitter
,
Instagram
, and
YouTube
profiles with still no clear clue as to who this band truly is... but you can watch their first MV here:
My thoughts on the music video? It's well made! The vocalist has a lot of dynamic expressions that will captivate anyone! And apparently, the vocals are from SHIN (formerly from VIVID) except for the "rap" portion. If that's the case, what awesome vocals along with Lizard's amazing lip-syncing talent! He really makes it look like he is actually singing and with such feelings! Of course, the rest of the members are very alluring as well! The makeup and costumes are on point. And the song is actually not too hard and pretty easy to listen to for someone who has never dived into the J-rock or visual kei scene. That point is probably important if these are the same boys from EXILE TRIBE which gathered fans with their amazing dance skills and catchy J-pop songs.
Again, with no official announcements, EXILE TRIBE fans on Twitter have shared their predictions on who in LDH are actually members Lizard (leader/vocalist), Crow (guitar), Witch (guitar), Lily (bass), and Vader (drums) as seen below:
Photo was taken from here.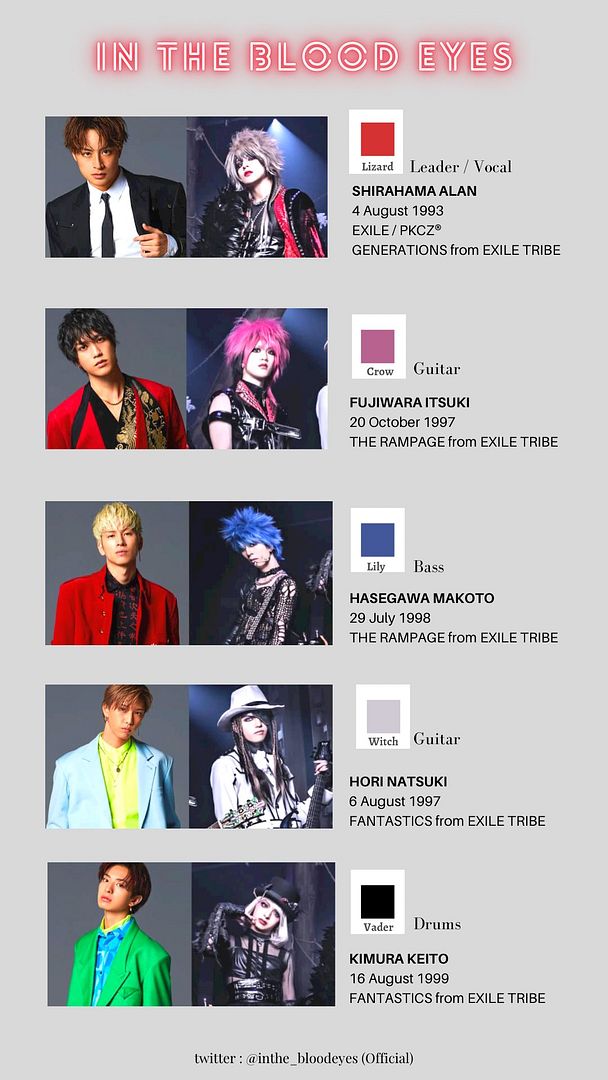 Photo was taken from here.
Most of the fans have agreed on the identities of 4 out of 5 members. Citing these four members are Alan Shirahama from GENERATIONS as Lizard, Itsuki Fujiwara from THE RAMPAGE as Crow, Makoto Hasewaga from THE RAMPAGE as Lily, and Keito Kimura from FANTASTICS as Vader. But there are differing opinions on who Witch actually is. Some say it's either Ryota Katayose who is one of the main vocalists for GENERATIONS or Natsuki Hori who is one of the performers of FANTASTICS. But we have all yet to know all the facts until we get an official announcement!
Generally, the reviews of this release are positive from their EXILE TRIBE fans. But what do you think about it? Do you think they pulled it off?
If you're curious to see where these boys are from, here are their groups latest releases:
In THE BLOOD EYES - Crazy Lemon