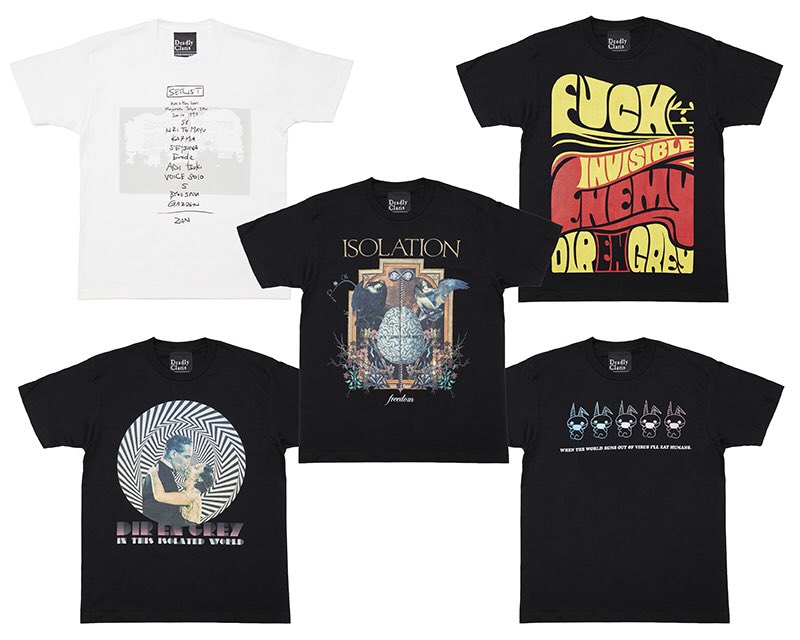 The members of DIR EN GREY have produced a series of five t-shirts. Each tee features a unique theme that speaks to the current COVID-19 crisis.
The theme for Kyo's shirt is "Possibilities." The black tee features elements of the painting
Sirin and Alkonost. Birds of Joy and Sorrow.
by the famed 19th century Russian artist Viktor Vasnetsov on the front. Siren and Alkonost are perched on either side of a brain with the phrase
DON'T LOSE TO YOURSELF
superimposed over its lobes. Encompassing this large design are the words
ISOLATION
and
freedom
. The back print is a macabre depiction of the DIR EN GREY logo. Buy it
here
.
Kaoru's shirt has the theme of "Time"—captured by the handwritten setlist from a 1997 live at Rock Maykan printed on the front. It is the only white t-shirt in the collection. Buy it
here
.
Die's shirt design can only be described as groovy. With
FUCK INVISIBLE ENEMY
written largely across the front in a 1960's-style psychedelic poster art font, its theme is "Fxxk rather than Crush." The back has
THERE'S NO DAWN
printed across the bottom in the same red and yellow motif. Buy it
here
.
The theme for Toshiya's tee is "the current time." The design on the front is intended to look like a vintage movie poster that has been "revised and adapted to the 'current time'" with the addition of face masks. Buy it
here
.
Shinya's shirt features five "cute yet poisonous" bunnies on the front to go along with its theme of "bunnies who don't lose to the virus." Underneath the bunnies is a warning reading
WHEN THE WORLD RUNS OUT OF VIRUS I'LL EAT HUMANS
. These cute yet Buy it
here
.
The tees are available for pre-order until

July 21st at 23:59

(JST). Each tee retails for

¥

7,700 (tax-included)

. A special set of all five shirts is available, exclusively to members of DIR EN GREY's fan club 「a knot」for

¥

38,500 (tax-included). Each set comes with a free face mask.
After the pre-order period ends, a limited number of shirts will be sold on GALAXY BROAD SHOP. Regular sales begin
July 22nd at 18:00
(JST). More information can be found
here
.